Medical Alert Systems
Medical Alert Systems
Tunstall provides Medical Alert Systems via its business partners in North America. At the heart of the solution is the Vi+ that is placed in the resident's home and allows the senior to call for help 24 hours a day.
Personal Pendent
In addition to the Medical Alert System, a personal Amie pendant is supplied that is worn by the user to allow them to generate a call for help from anywhere in their home even if they cannot reach their unit.
Wireless Telecare
The Tunstall Medical Alert System can also be wirelessly connected to a wide range of telecare sensors that provide added protection to the user by generating automatic calls for help when they detect potentially dangerous situations. These sensors include fall detectors, flood detectors, motions detectors and many more.
Telecare
Remote Monitoring
Telecare enables the continuous, automatic and remote monitoring of real time emergencies and lifestyle changes over time in order to manage the risks associated with independent living.
Proven Effectiveness
Telecare has proved itself in the UK through pilots and trials since the late 1990s, where the experience has shown benefits to clients and care givers, enabling people to remain living independently in their homes or to return home from hospital earlier that would otherwise be possible.
Intelligent Hub
The Tunstall Medical Alert System, Vi+, is the intelligent hub of the telecare monitoring system. The device connects to the telephone line and will automatically dial staff, personal care givers or a professional monitoring service to provide 2-way speech and information about the event.
Protection
Medical Alert Systems are designed to protect people living in their homes, apartments, condominiums or retirement residences. Equipped with a radio pendant, the units can be used to raise an alarm call from anywhere in the home by simply pressing the button or by pressing the large illuminated red button on the unit. A range of Medical Alert Systems are available to provide the level of telecare required.
Diverse Application
Tunstall telecare products can complement and support care services within assisted living and long term care as well as clients supported by informal caregivers or home care organizations.
Trigger a Call
Telecare sensors monitor risks, hazards and environmental conditions about the home and trigger a call from the Medical Alert System to a caregiver or a monitoring center when problems occur. They are wireless, battery operated and simple to install.
Tunstall Vi+
The Vi+, Tunstall's sixth generation Medical Alert System, has evolved. It is the most technically advanced, flexible, and simple to use telecare platform we've ever made. It is designed for use in a private home or in an assisted living facility. It is also well suited for use in Supportive Housing applications by Home Care organizations. The Vi+ includes a console unit and one Amie personal activator.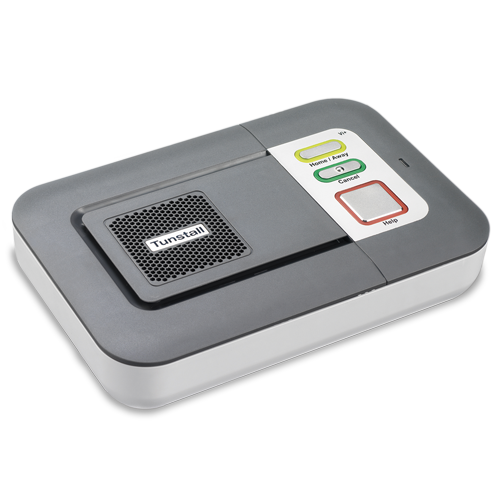 Key features
Attractive, sleek design is non-clinical and unobtrusive
Audio messages available in 3 languages to announce call progress and status messages
Illuminated help button to be easily located at night
Convenient cancel button in case help button is accidentally pressed
Allows up to six timed reminder messages to be recorded by a caregiver and sent to the user at the designated time. This feature can optionally be monitored by a professional monitoring service, so that if a reminder is not acknowledged by the user then an information call is sent to the centre
Activity monitoring uses sensors strategically placed in the home to detect activities of a resident living alone and to automatically trigger an alarm call when there is an exception to the normally expected pattern of activity. Allows two periods during the day to be monitored. The periods and durations can be specifically defined for the individual resident
Can be configured to monitor for intrusions to the dwelling and report silently to the monitoring service
For clients who rely on one (or two) regular daily visits to the home by a care giver, the Caresse + can be configured to monitor those visits and report immediately if a visit does not occur on time
Virtual sensors allow information from individual simple sensors to be combined to monitor a sequence of activities and to trigger an alarm call if there are exceptions
Easy switching between hands-free and handset mode allows non-emergency calls to be made in private by picking up the handset of an attached telephone
Dials up to 10 emergency telephone numbers in multiple call sequences
Sends Calls to either a Professional Monitoring centre or to a personal recipient
Ability to answer an incoming telephone call using the Amie pendant or iVi Fall Detector
Ability to signal a "beep" if user is unable to speak
Recordable voice tags allow messages to be recorded and used to replace fixed phrases for personal recipient
Ability to Auto Answer calls from known sources
Audio messages available in 3 languages to announce call progress and status messages
Configurable periodic test calls i.e. weekly, monthly, etc.
Compatible with iVi intelligent pendant with fall detection*


*Fall detection feature does not detect 100% of falls. If able, users should always press their help button when they need help.

Ability to detect that the iVi is not worn
iVi
The iVi Intelligent Pendant with fall detection works with the Tunstall Vi+ Medical Alert System, replacing the standard personal activator. The iVi features a standard help button, automatic fall detection technology*, and a not-worn alert**.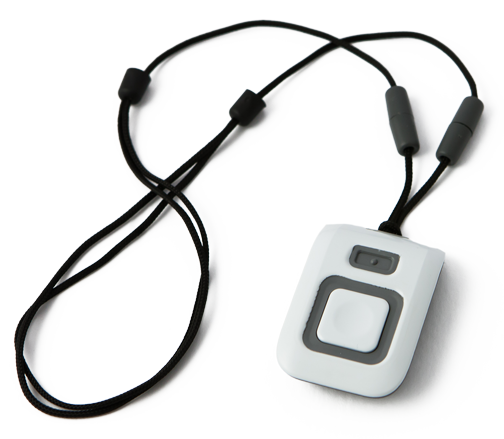 Key features
Adjustable fall sensitivity is customizable to suit individuals
Convenient cancel button enables the wearer to cancel fall activations if assistance is not required, eliminating unnecessary calls
Supervised replaceable battery offers low battery alerts and easy maintenance
Not-worn alert notifies the Response Center if the device has not registered movement for a specified period of time indicating it may not have been worn. Responsible parties can then follow-up with subscribers to ensure compliance
Visual and audio alerts notify and provide reassurance to the user that the iVi has detected a fall
*Fall detection feature does not detect 100% of falls. If able, users should always press their help button when they need help.
**Not-worn alert is only compatible with Tunstall Vi+ unit.
Amie Personal Activator
The Amie pendant is small, discreet, and designed to provide comfortable wearing options for the user such as a necklace, clipped to a shirt or belt, or on the wrist. The Amie pendant works up to 390 feet (120m) from the base unit and is water resistant, allowing it to be worn while bathing. The Amie pendant is compatible with the Tunstall Vi+ Medical Alert System.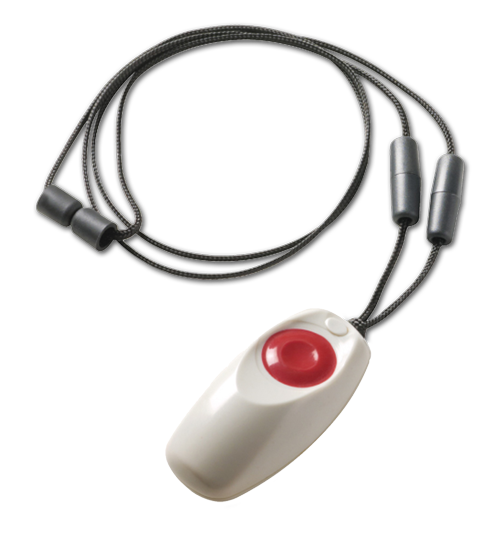 Key features
Multiple wearing options include necklace and bracelet (belt clip may be ordered separately)
Water resistant (IP67) personal activator is designed to be worn in shower or bath. It can be immersed in 3 meters of water for up to 30 minutes and remain waterproof
390ft (120m) radio range in free space, suitable for typical dwellings/homes
Compatible with the Tunstall Vi+
Emergency calls from a Vi+ can be sent to a:

PBX telephone switch
Wireless telephones
Cellular Telephones
Pocket Pagers
Professional Monitoring centre
Friend, relative, neighbours, etc.
CEL MXD
The Tunstall CEL MXD is a Medical Alert System which utilizes a cellular network to communicate with our Emergency Response Center. A landline or traditional phone service is not required, nor does it require a cellular plan. The CEL MXD system includes a two-way voice base console and one personal activator which can be worn as a lanyard, or wristband.
Key features
Audible announcements available in English or Spanish
60 hour back-up console battery
Integrated loud speaker & microphone
Operates on a cellular network*
Compatible with the MyActive Fall Detector**
*The Tunstall CEL MXD requires a satisfactory GSM Cellular network connection to operate as intended. Coverage may not be available in all areas and may change after system activation due to a number of factors. .
**Fall detection feature does not detect 100% of falls. If able, users should always press their help button when they need help.
myActive
The Tunstall myActive Pendant features patented and clinically validated automatic fall detection algorithms and also incorporates a water-resistant HELP button to request help at the press of a button.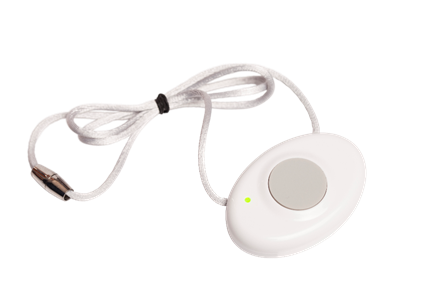 Key features
Advanced algorithms that enables the myActive to distinguish between fall and non-fall events.
Auto cancel feature will automatically cancel the call if steps are detected immediately after a fall event, eliminating unnecessary calls.
Small, lightweight design makes it discreet and easy to wear.
600ft radio range in free space makes it suitable for typical dwellings/homes.
The myActive can be easily programmed to CEL MXD.
Can be worn in shower or bath.
Supervised auto presence notifies the Emergency Response Center if the myActive is not seen/ within range of the console for a specified period of time.
Smoke Alarm
The wireless optical (photoelectric) smoke alarm provides greater protection than a normal house smoke alarm by generating both a local audible alarm and sending a signal to the Tunstall Vi+. This in turn will generate a call to the 24 hour monitoring center where an experienced operator can alert the emergency services. Because the process is automatic and immediate, the risks to life and property are reduced.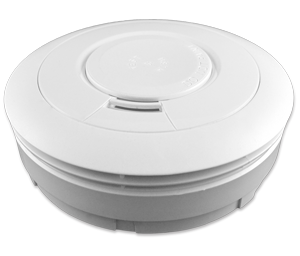 Key features
Wireless connection to Tunstall telecare units – one or more smoke alarms can be installed quickly and easily in existing dwellings
Battery life – a typical battery life of greater than 1 year
Small and attractive – with a diameter of only 4.7" it is an extremely discreet and modern smoke alarm
Optical sensor - particularly effective in detecting smoldering fires such as those ignited by cigarettes in upholstered furniture, bedding materials, and mattresses
Supervised - Low battery supervision and transmitter supervision when used with the Tunstall telecare unit range. Low battery and fault conditions are reported to the monitoring service automatically and promptly
Automatic self-testing of chamber for contamination – the red LED will flash once every 40 seconds to show the alarm is powered and it has performed an automatic self-test
ETL listed to the UL 217 standard and ULC50531 - the nationally recognized standard for smoke alarms which are intended for open area protection in indoor locations of residential units in accordance with the National Fire Alarm Code, NFPA 72. Smoke alarms listed to this standard are recommended by the majority of fire departments for use in residential properties
Flood Detector
An unobtrusive wireless sensor that can provide an early warning of potential flood situations. The sensor is placed under the sink or in the washroom next to the WC or under the bath. If the detector senses water the unit will provide an audible alarm and will activate the home unit, which will automatically raise a call at the response center.
Key features

Wireless connection to the Vi+
Generated an audible warning of flood as well as triggering an alarm through the Vi+
Generates an audible warning of low battery
Pull Cord
Easily installed, a wireless pull cord will trigger a call on a Caresse+ to staff or the response center. A pull cord is an essential requirement for times when a personal pendant may not be worn, such as in the bedroom or bathroom, giving the user and extra means of raising an alarm.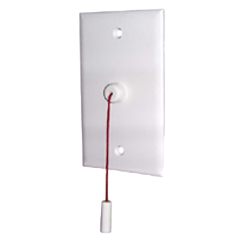 Key features

Red cord with small white end grip
Extremely low maintenance, with a battery life of typically 10 years
4 hour supervision transmissions
Operates up to a range of 300 feet to 450 feet in free space
Automatic low battery reporting
PIR Movement Detector
The PIR is a wireless movement detector that detects activity in the room. One or more PIRs are linked to the home unit as part of the activity monitoring solution, raising a call when the client has been inactive during a critical period of the day. The PIR can also detect intruders when the client is away from home.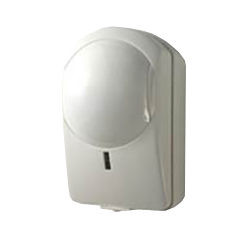 Key features

Typical coverage of a sensor is 35 feet by 35 feet
Screw adjustment to give pet alley performance
Lens reversal to give long range performance (55 feet by 5.5 feet)
Automatic low battery detection and reporting
Radio Output Module (ROM)
The radio output module (ROM) allows other compatible devices to transmit a signal to a home unit, eliminating the need to hard wire peripherals.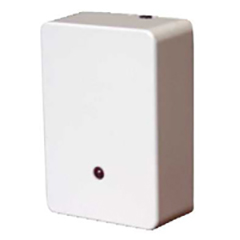 Key features

Wall or ceiling mounted
Operates at a range of up to 300 feet to 400 feet in free space
Connection to a variety of disability assist devices including sip &puff.
Automatic low battery warning
Battery life of typically 10 years
Bed Occupancy Sensor
A solution for the protection of clients who get up during the night and fail to return after a specified period of time has elapsed. The sensor can also detect whether clients have failed to go to bed at night or have not gotten up in the morning, thus alerting caregivers to possible hazard, illness or accident conditions.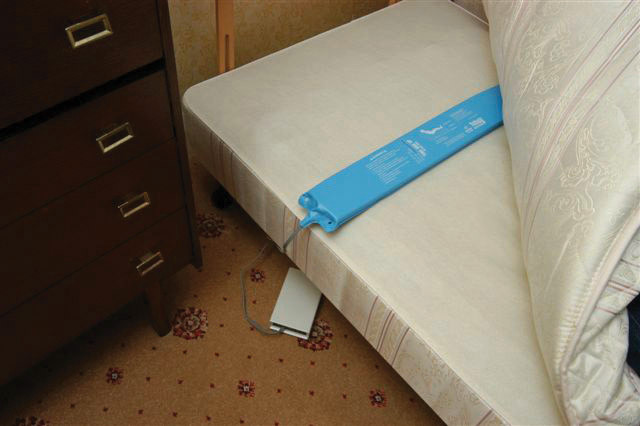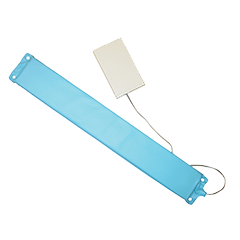 Key features

Wireless connection to the Vi+
Allows connection of a second bed pad for use in a double bed
Automatic low battery detection and reporting